Art-in-Buildings Is Hiring!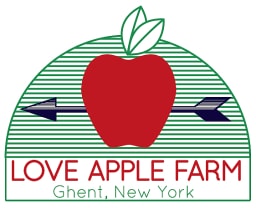 Part-Time Paid Seasonal Position – Love Apple Farm Gallery Manager in Ghent, New York
$13/ hour, about 20 hours per week
Start date ASAP with work through the end of the year
What We Do:
Love Apple Farm Gallery (LAFG) brings contemporary art by early and mid-career artists to a non-traditional exhibition space, a farmhouse at a working apple orchard in Columbia County, NY. The exhibitions are created in the interest of promoting artists, expanding the audience for art, and creating a more interesting environment at the farm. LAFG is a part of the Time Equities Inc. Art-in-Buildings program, which is based in New York City and makes exhibitions around the US, Canada, and Caribbean.
What You'll Do: Essential duties and responsibilities
• Gallery sit during open hours (Friday – Sunday, 11am – 5pm), answer questions, give tours, be a set of eyes on the scene, report incidents or damage if necessary.
o Proposed gallery hours and days of operation are an estimate. We may make changes after opening based upon foot traffic and audience feedback.
• Provide general administrative support to the Curator.
• Assist with exhibition and installation planning including coordinating with the artists and planning artwork pickups, delivery, shipping, and exhibition installation and de-installation.
• Stay abreast of artists and art events in the Hudson Valley.
• Promote the Love Apple Farm Gallery locally.
• Social media management and digital content creation.
You will need to be available a few evenings a year for exhibition openings.
Who You Are:
• You are passionate about contemporary art and artists.
• You are exceptionally organized and attentive to detail, and you understand why accuracy is of fundamental importance to our operation.
• You possess excellent written and verbal communication skills.
• You are positive, articulate, open, and energetic. You are not afraid to ask questions. You are comfortable meeting and conversing with new people on a regular basis. You have a great sense of humor!
• You participate in the art world, for example going to see shows and performances at museums and galleries regularly. You are encouraged to bring your interests and ideas to the Love Apple Farm Gallery.
How You Work:
• You understand when to act independently and when to ask for guidance, and you do both with confidence.
• You are a natural at multitasking and managing your own schedule in order to meet project goals.
• You think creatively and address all angles of an issue to arrive at the best solution.
• You take initiative in suggesting and developing improvements to our operation.
• You accept constructive criticism with grace, and you build upon past experiences.
Your Skills & Qualifications:
• Bachelor's degree in a related field (e.g. art history, studio art, English, communications, etc.)
• At least 2 years work experience in a comparable field such as a gallery, museum, arts non-profit, private collection, etc.
• Computer literacy in MS Excel, Word, & Outlook for PC and proficiency in social media platforms.
To apply, please send a cover letter directly responding to this job posting, resume, and contact information for three references, including at least one professional supervisor, to [email protected] with the subject line Love Apple Farm Gallery Manager. Applications will be reviewed on a rolling basis. No phone calls, please.
Share