Artist-in-Construction Residency at 50 West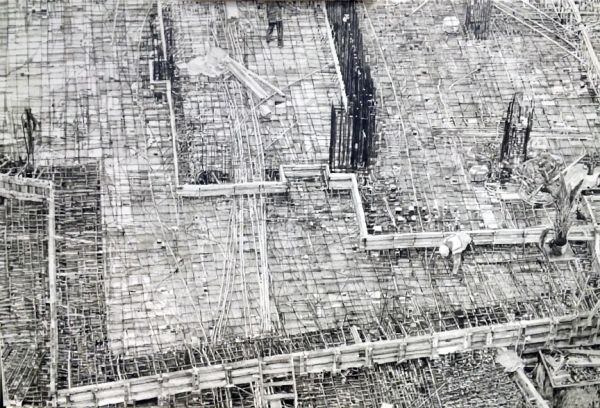 Hugo Bastidas - Footprint (2015)
Over the past year, Art-in-Buildings has hosted three artists in residence, Noa Charuvi, Hugo Bastidas, and Paul Anthony Smith. We invited the artists to consider and respond to the development of 50 West, a luxury residential tower rising in Lower Manhattan. The building, designed by Helmut Jann, will be a spectacular addition to the skyline when finished but, rather than just anticipate completion, we were interested in the construction process: the seemingly impossible ballet of workers and machinery that is usually hidden behind construction fences. We gave each artist a hard hat and access to the site so that they could see first hand the work being done, and use that experience in the studio.
"We believe that this program is the first of its kind for New York City residential development," said Francis Greenburger, Founder and CEO of TEI. "Our main goal is to give artists an environment that allows them to find inspiration and be in dialogue with the building, from conception to completion. Noa was a natural fit for us as she was part of the nonprofit artist residency program, Art Omi, which I founded in 1992."
Charuvi, an Israeli artist who lives and works in Brooklyn, documented the development of 50 West in its foundational stage. "As part of my process, I photograph various elements of development like workers, materials and machinery and then translate captured images onto canvas," said Charuvi, at the beginning of her residency. "Thus far, I have received great feedback from the workers and developers alike, they're pleased to see someone pay tribute to their work, in a unique way."
Hugo Bastidas is focusing on the vertical growth of the building. His intricately detailed work renders an otherwise mundane subject, the laying of rebar and concrete, fantastic and otherworldly. Paul Anthony Smit's work is focusing on the construction workers themselves.
As part of the residency, the artists receive an honorarium and studio space in exchange for a select number of completed works. The studio space is located adjacent to 50 West's sales gallery at 40 Rector Street, in New York's Financial District. Completed artwork will be on display in the 50 West sales gallery during construction and upon completion of the tower, the works may be installed in common spaces for residents to view.
For more information on 50 West, please visit the property's website.
Share