Artist in Context: Cui Fei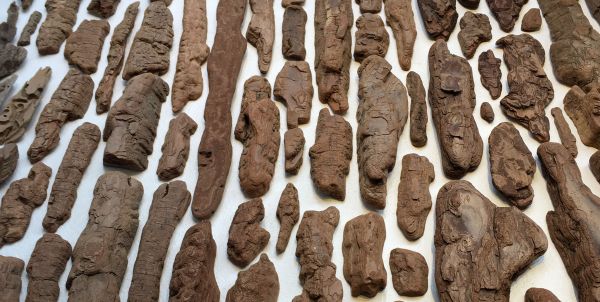 By Eliana Blechman
In our interview with Cui Fei, the artist discussed the relationship between humanity and nature in Western and traditional Chinese culture, as well as the value she places on collecting and repurposing natural materials in her work. She explained that the way we view our environment is impacted by our cultural vantage point, and can reveal a struggle between traditional approaches to understanding a harmony within nature and the contemporary desire to instill control.
Figure 1: Diana Lynn Thompson, Hundreds of Thousands, 2000-2001
Diana Lynn Thompson investigates humanity's relationship with nature in her work Hundreds of Thousands. This year-long project involved numbering individual leaves on five trees in Bear Tree Park in Surrey, British Columbia. As the seasons changed, Thompson collected, flattened, and pinned 38,000 fallen leaves to Surrey Art Gallery's walls. She acknowledges that numbering leaves was a foolish task. Using a scientific approach in quantifying the leaves on trees reveals the limits on humanity's desire to control and order the natural world – the quantity will eventually become overwhelming. Bringing the leaves into the gallery space additionally elevated the beauty and importance of the natural world by declaring it art, while imposing a man-made structure onto nature.
Figure 2: Yao Lu, Landscape Part III – Dwelling in the Mount Fuchun, 2008
Photographer Yao Lu's work further investigates the conflict between a traditional desire for harmony in nature and the contemporary impact we hold on the environment. At first glance, his work imitates traditional Chinese landscapes filled with mountains, waterfalls, and cliffs. Upon closer inspection, however, the delicate landscapes are revealed to be photographs of rubbish heaps covered in green mesh slips used to prevent dust from blowing away. Lu uses these images to display the disconnect between man's attempt to preserve nature as a harmonious force while contributing to its destruction.
Art grappling with the struggle between man and nature often makes use of the found materials – both natural and man-made – that surround us. Through a cultural and environmental lens, we are forced to face the changing realities of our environment and the changing sense of our power over it.
Learn more about Cui Fei on her website.
To stay up to date on Time Equities Art-in-Buildings Projects,
subscribe to the blog, visit our facebook, and connect with us on twitter and instagram!
Share