Artist in Context: Nadja Frank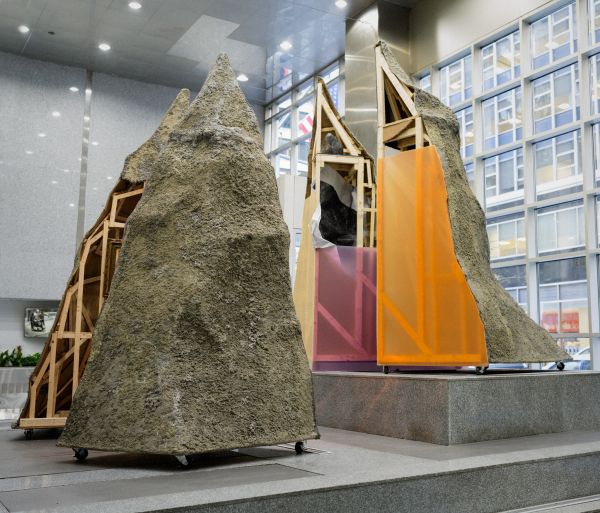 By: Eliana Blechman
In our interview with Nadja Frank, she discussed the impact of man's interference into nature in her work, the relationship between the internal and external, and how she explores human experience of nature over time. Frank explains, "The relationship between indoor and outdoor, free and enclosed, natural and studio space, is central to my practice. This produces a tension in the works between their natural and imaginative features, requiring viewers to ask a question about their true source. The work explores how we experience landscape and time." Her installation Red Headed Stranger at 125 Maiden Lane engages with these ideas, displaying a quartered mountain structure that is both awe-inspiring in its size, as well as relatable in its blatantly visible construction. As the viewer walks through the exposed interiors of the structure, the realistic external façade gives way to exposed wooden beams and fabricated neon plastic plates.

Artist Vaughn Bell's work Thinking Caps engages with the ideas Frank brings forward, also using mountains as a jumping off point. In this work, Bell suspends four mountainous forms with carved out interiors throughout the gallery space. The viewer is invited to sit within the mountain and listen to sounds of water, ice, or other elements. Thinking Caps allows the power of a mountain to be brought down to a human scale, while at the same time acknowledging that the sculptures are composed of fragile materials: paper and recorded sound.
Vaughn Bell, Thinking Caps, 2010
Artist Olafur Eliasson's 2014 installation Riverbed at the Louisiana Museum of Modern Art in Denmark further explores the relationship between interior and exterior by reversing traditional understandings of nature/art and inside/outside. For this site-specific installation, Eliasson filled a wing of the museum with rocks and a winding stream of water, commenting on the connection between art and environment, as well as the environment for art. The result is a disorienting confrontation between audience, artwork, and personal experience of nature that brings nature into a constructed internal space.
Olafur Eliasson, Riverbed, 2014
Eliasson's recent project Ice Watch examines the relationship between man and nature over time. For this project, Eliasson brought twelve blocks of ice cast off from the Greenland ice sheet to public locations. The ice blocks, arranged in clock formation, were left to be observed until they melted. Alluding to the passage of time, both in the reference to clocks and in the inherent and rapidly melting end-date, Eliasson's work is an important commentary on global warming and man's relationship with the environment. Bringing the ice blocks out of their natural environment and into public spaces brings man's global impact to a human level – we can literally see the products of global warming melting before us. The awesomeness of the glacier is brought down to human scale.
Olafur Eliasson, Ice Watch, 2014
Reflections on the relationship between man and nature allow artists to bring grand environmental imagery and issues to a personal level. Using both natural objects and materials revealed to be artificial, the power of nature is both held up and brought down to human scale.
Learn more about Nadja Frank here.
To stay up to date on Time Equities Art-in-Buildings Projects,
subscribe to the blog, visit our facebook, and connect with us on twitter and instagram!
Share