Get to Know: Nadja Frank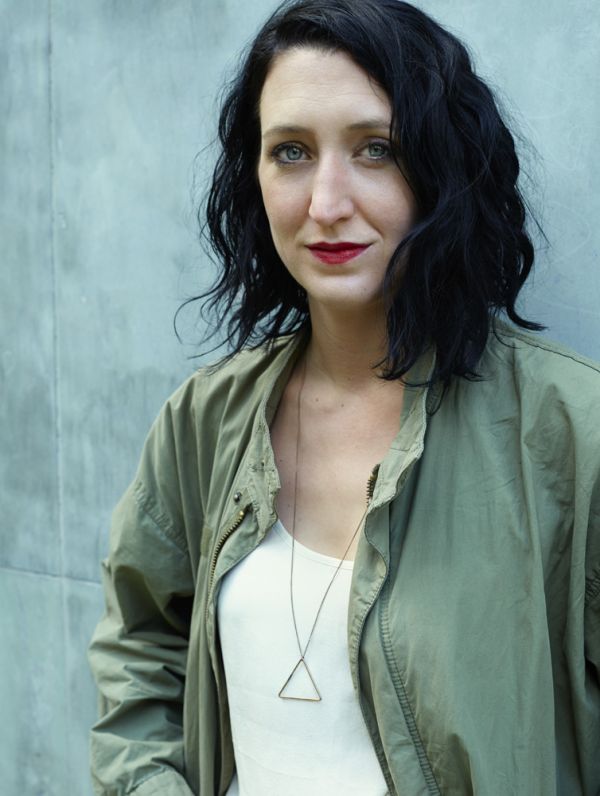 Interviewed by: Eliana Blechman
We asked Nadja Frank a few questions about Red Headed Stranger, the influence of geology and human intervention into nature on her work, and the importance of audience participation. Read on for more...
Nadja Frank, Red Headed Stranger, 2013
Sand, resin, wood, granite, paper, coat hanger, book, tape, earth, acrylic glass, clamps, found landscape painting

Art-in-Buildings: Your sculptures often appear to be made of natural materials, but on closer examination are revealed to be man-made. What role does this illusion and discovery play in engaging with your work?
Nadja Frank: Traveling is an important part of my process, as my works maintains a dialogue with the outside world. The relationship between indoor and outdoor, free and enclosed, natural and studio space, is central to my practice. This produces a tension in the works between their natural and imaginative features, requiring viewers to ask a question about their true source. The work explores how we experience landscape and time.
I traveled a lot, particularly in the Southwest of the USA, and examined and collected natural materials to work with later in my studio. For example, I mixed found sand/gravel in all different colors from all different places with resin to make sculptural paintings.
I also have used a lot of "modern building" materials like concrete and sand.
I am interested in the opposite of natural – artificial – but I am not trying to create an illusion of something being natural that is not. In all of my work there is a possibility of discovery. I want viewers to experience my work, not just visually but more physically – the materials I use tend to be haptic, and therefore explain their origin.
Nadja Frank, #1 Dirty Devil River, 2013
Zinc plate, earth, resin and oil paint
12 x 18 x 1 inches
AiB: How does humanity's attempt to control nature factor into your work?
NF: I am fascinated and at the same time disgusted by how we interfere with nature on a lot of extreme levels. I want my work to give an opportunity to reflect on how we humans interact with nature.
Nadja Frank, #4 Arches, 2013
Zinc plate, earth, resin and oil paint
11 x 14 x 1 inches
AiB: Red Headed Stranger invites viewers to walk through a quartered mountain structure. What is the importance of audience interaction in your work?
NF: I was a painter before I started making sculptures and installations. But I felt there was a certain illusion in the flat surface of a two dimensional painting, and I needed the "third dimension" to experience the painting (I called them object paintings at the time) fully, on another level than just visually.
Red Headed Stranger is a sculpture, and the body of the viewer is very much related to the body of the work. In this piece in particular, I wanted to imitate the rather forceful act of cutting through mountain ranges for creating highways, etc. In moments of driving through these "cutouts," I always felt like I was holding my breath, and this left a strong impression on me. So I want the viewer to walk through the sculpture and explore it in their own time. Red Headed Stranger is placed on casters – there is a possibility to move these mountain parts quite easily, and I wanted to introduce a playfulness into the work.
Nadja Frank, 44°05' N 10°08' E ZIDO, 2010
Inkjet Print
44 x 35 inches
AiB: Much of your art reformats or repurposes geological formations. How did you start working with rocks and geology in your art?
NF: I created one particular work, 44°05'N 10°08'E Zido, in 2010 in Carrara, Italy that changed my whole process of making art.
44°05'N 10°08'E Zido was an environmental painting, where cut walls of an active quarry were used as the surface to paint on.
The quarries of Carrara can be seen from a long distance; one first sees the white marble stone of these mountains as they exist in this area of the Apuan Alps. The manmade compositions in the mountain created by the cutting and mining of the marble can be seen upon physically entering the quarries. Architectural in their structure, they create a fascinating juxtaposition of the forces of man and the forces of nature. They present an enormous "three dimensional canvas."
The title refers to the latitude and longitude coordinates of a specific quarry in Carrara, Italy. "Zido" is used to describe a technique used in filmmaking, known as the dolly zoom. Working in the quarry and painting its surfaces has often left me with a similar sensation as this filmmaking technique. From the 360 degree viewing of the space to the actual size of the quarry (each level was about 30 feet in height), the painted surfaces began to interact with the existing colors in the mountain, creating a movement of color and space that can be disorientating at times. The natural colors were dominant – white marble, blue sky, green patches of grass and trees, the rusty orange of the rock and the different grays within and on the surface of the marble (sediments). Natural light, shadows and reflections changed the perception of all of these colors constantly. The added paint left the structure of the marble stone visible, highlighting the natural cracks and marks made by the cutting machinery. Moving through the space allowed the painted view to change with every step.
The quarry and the painting continued to change ever since. The use of water-based pigments allowed for the painting to evolve over time as it was exposed to the forces of nature and man. The painted surfaces transformed and faded as time went by, becoming a slightly new work on a daily basis.
The quarry was actively mined again soon after I finished the painting, making further changes to the painting through the moving and removal of marble blocks as well as the cutting of walls of the quarry.
Since then I worked a lot outdoors and a lot more of my works took on a life of their own.
Nadja Frank, 44°05' N 10°08' E ZIDO, 2010
Inkjet Print
44 x 35 inches
AiB: What's next for you?
NF: At the moment I am doing the LMCC studio residency and working on Liberty Street. I am interested in collecting/ experimenting and archiving at the moment. Nowadays we have a digital library with us at all times – but I am often missing the physical contact with material. I am interested in that touch. It is not only slowing down and taking a moment to daydream about materials, it is also a way of getting to know these materials better by touching and transforming them. I want to start researching in New York City. After doing a lot of research in remote places in the Southwest, I now want to put my focus on the materials I find in the city –in Manhattan.
Learn more about Nadja Frank's installation here.
To stay up to date on Time Equities Art-in-Buildings Projects,
subscribe to the blog, visit our facebook, and connect with us on twitter and instagram!
Share