Get to Know: Anne Muntges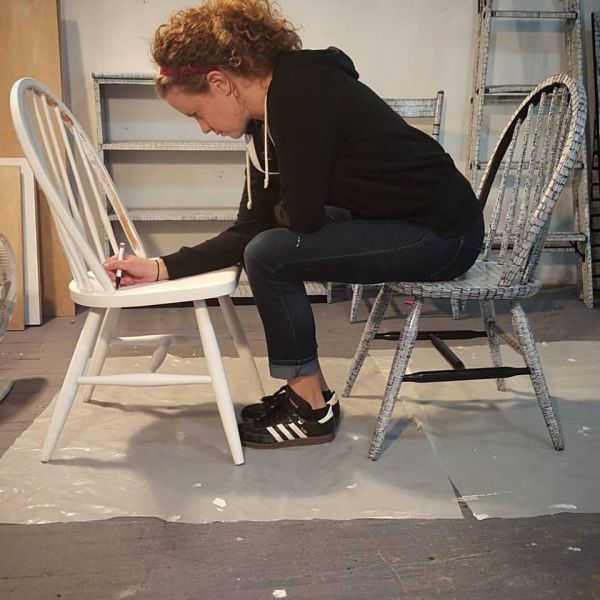 Interviewed by: Eliana Blechman
We asked Anne Muntges a few questions about her practice, representations of the home, and vacillating between 2- and 3-D. Read on for more...
Art-in-Buildings: Your work centers on representation and manipulation of the home environment. What draws you to the home?
Anne Muntges: It has taken me some time to really understand my practice, and recently I have come to a place where I now know that the work I make is a direct reflection of the environments I am physically occupying. When I started this project 3 years ago I chose to recreate a home because it was space I was physically spending the most time in. This project allowed me to explore every part of the spaces I lived in and to get to know the parts and pieces that made a home my home. Through drawing I studied all the bends and folds of places. In some ways it helped me take ownership of the world around me. Home was a comfortable space for me to play in and use thematically in my work. I was drawn to it because it was the space I could explore most closely.
AIB: What is the importance of vacillating between 2 and 3-dimensional space in your work?
AM: This installation is the answer to the question of whether or not I could make a 2 dimensional drawing turn into a 3 dimensional space. When I started this work it was a series of drawing on paper. The drawings, which were based on the places I was living in (various apartments in Buffalo, NY) started to develop into these elaborate spaces covered in marks, and I wondered if there was a space between making a drawing and living in a drawing.
By taking standing objects found in my living spaces such as furniture, cabinets, and decorative accouterments (books, lamps, rugs), priming them white (to make their surfaces look like paper), and marking on them, I found a place where drawing became more life-like. Each part of every surface is covered in handmade marks made to transform the entire space into a black and white drawn world. The drawing patterns are unique to each object and change as they are moved in the space.
I want the eye to move between drawn mark and physical space. I want people to question the depth and to get lost in the space I made.
AiB: In your artist statement, you talk about questioning "ideas about architectural space and the nature of our interaction with it." How do people relate to space, and how does your work challenge traditional uses and representations of space?
AM: I suppose what I mean by that statement was that I want to take a place many of us are familiar with, like the home, and make it seem completely new so that you can explore it with the same sense of wonder you would feel in a new environment. Transforming the entire space into a black and white drawn world covered in drawing patterns, unique to each object, does this. Using such a simple color palette forces the eye to question the depth of the space and to explore each part with intensity. Each time I install this work it becomes a one of a kind experience as the drawing changes with every moved piece.
AiB: How does your work conflate the real with the imaginary?
AM: I believe this happens with the mere fact that this environment is a hand drawn world that one can physically explore. While the objects are real, they are treated as a drawing surface, and when presented make a space that optically feels like a flat drawing.
AiB: What's next for you?
AM: At the moment I am working on a series of new drawings for my show this September at the Western New York Book Arts Center in Buffalo, NY. I am also starting a new installation project in which I am creating an enormous braided rug (around 80-100ft long), which will cascade from the ceiling and unravel around a space (to be determined). It is pretty early in its development, so I am not sure what will happen as I get further along in the braids and sewing. I've been sketching possible places for it to be installed, but it is still open ended. Pretty excited to be playing in studio without fully knowing the outcome.
Learn more about Anne Muntges on her website.
To stay up to date on Time Equities Art-in-Buildings Projects,
subscribe to the blog, visit our facebook, and connect with us on twitter and instagram!
Share