Get to Know: Emily Noelle Lambert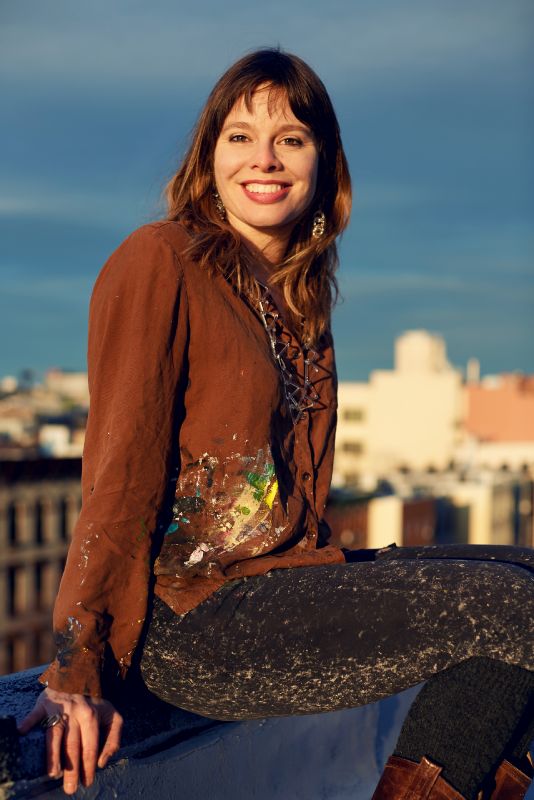 Interview by: Eliana Blechman
Photos by: Sol Hashemi
We asked Emily Noelle Lambert a few questions about the interaction between painting and sculpture in her work, abstraction and figuration, and repurposed material. Read on for more...
---
Art-in-Buildings: You often place totemic sculptures in front of or in conjunction with large scale wall paintings in your installations. What is the relationship between painting and sculpture in your work?
Emily Noelle Lambert: The sculptures develop along with the paintings. When I am unclear on the next move with a painting, I turn to the wood forms, using color, mark making, texture to paint on a dimensional surface. The painted wood pieces are stacked and piled. I like the tangibility of the dimensional forms as another format to explore the elements in the painting. A three dimensional sketchbook.
The sculptures are a type of collaboration with the world outside of my studio. They connect to place, place and surroundings-in that the forms of the pieces are mostly found. They are transformed with color and line.
Sculpture has always functioned as a place of exploration and freedom for me, it is a place for me to paint with a greater sense of freedom and exploration. I use that as inspiration for the painting.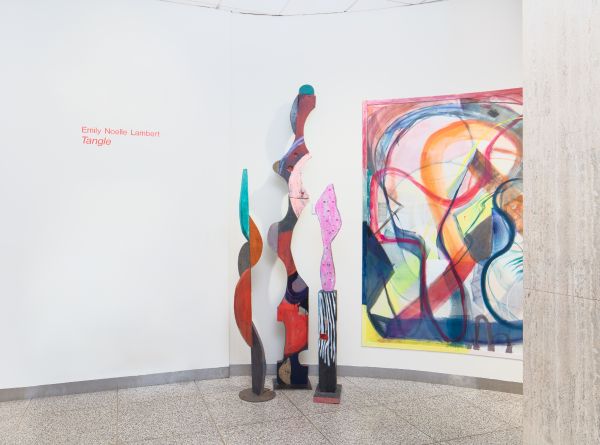 AiB: Your wall paintings incorporate broad strokes – but none longer than your own wingspan. How important are the limits of or trace of the artist's body in your work?
ENL: Physicality and traces provide a history of movement within the paintings. The painting is then built with this gesture, a stacking/layering/piling of brush strokes. Maybe I will work on increasing my wingspan.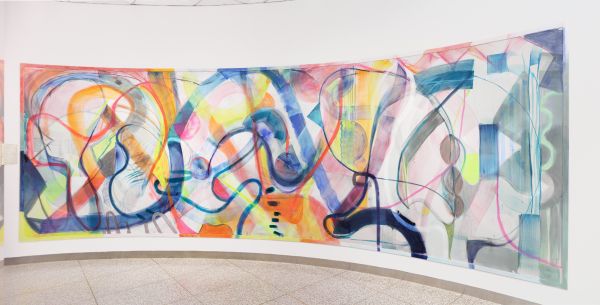 AiB: You incorporate both abstracted and figurative elements in your paintings. How do you navigate this balance of referential and non-referential forms?
ENL: It all blends together in my eye, I don't think of it as a balance but an exploration of figuration and abstraction. Ideas, snippets of narrative, memory—all come into play. Perception of what is seen, and how we see it depends on perspective. The lines in the palm are lines, abstracted, and they are of the figure. Our bodies vessels for blood, and bones as well as movement and fantasy. I want to find the spaces where these things come together. This question of figuration and abstraction has always been a part of my work and it is an old question that many fantastic artists worked through, Bourgeois, Rothenberg, de Kooning, Guston and Picasso. I think of everything I paint being the interior or exterior of the body and the mind.
I am interested in the movement of the body and my work moves back and forth utilizing figurative elements and abstraction. I love drawing the figure from observation when the observation involves gesture, movement, the figure changing.
AiB: Your sculptures are composed of found or discarded objects. How did you begin working with these found materials?
ENL: A constellation of events like most things! But directly I had been working as a teaching artist for the Guggenheim Museum, making all these fantastic creatures out of recycled materials, milk cartons, detergent bottles, with third graders. A neighbor in the studio was moving out, she had a huge collection of costumes and gave me all these styrofoam mannequin heads and antique lace, gorilla fur, mink bodies— They sat in my studio as I was working on these multi headed figures, I glanced up one day and thought wow, I can make the figures I am painting. And thus began my first sculptural series of busts, multi headed busts. As I mentioned before, they are a way of working when I am sitting on a painting, perhaps a three dimensional sketch book?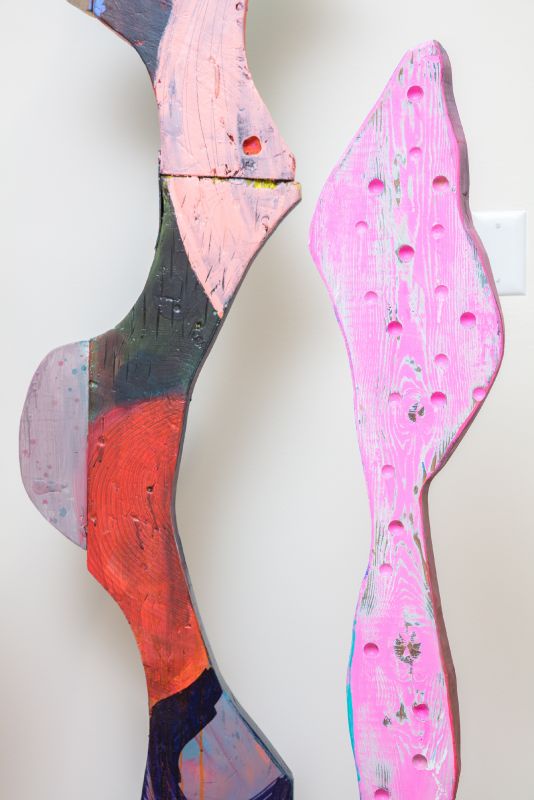 AiB: What's next for you?
ENL: I am moving to a new more spacious studio and preparing for a couple of group shows in and around NYC this summer. I am looking forward to settling into my new studio which is close to Newtown Creek. It is a quiet, light filled studio—I am eager to start working on some new projects.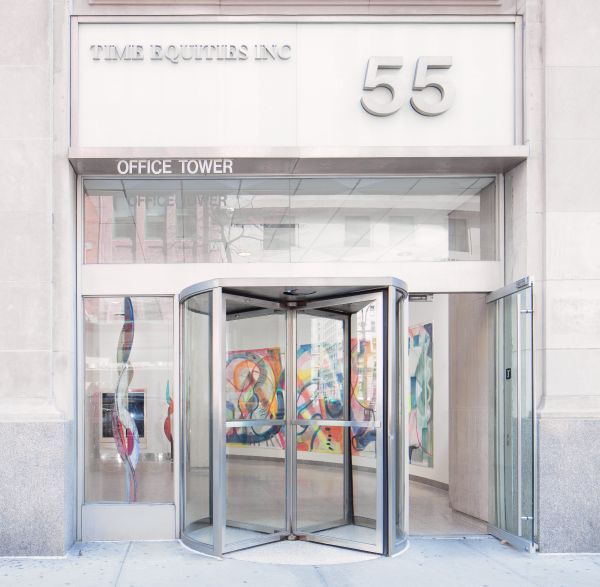 Learn more about Emily Noelle Lambert on her website!
To stay up to date on Time Equities Art-in-Buildings Projects,
subscribe to the blog, visit our facebook, and connect with us on twitter and instagram!
Share