Get to Know: Kirsten Hassenfeld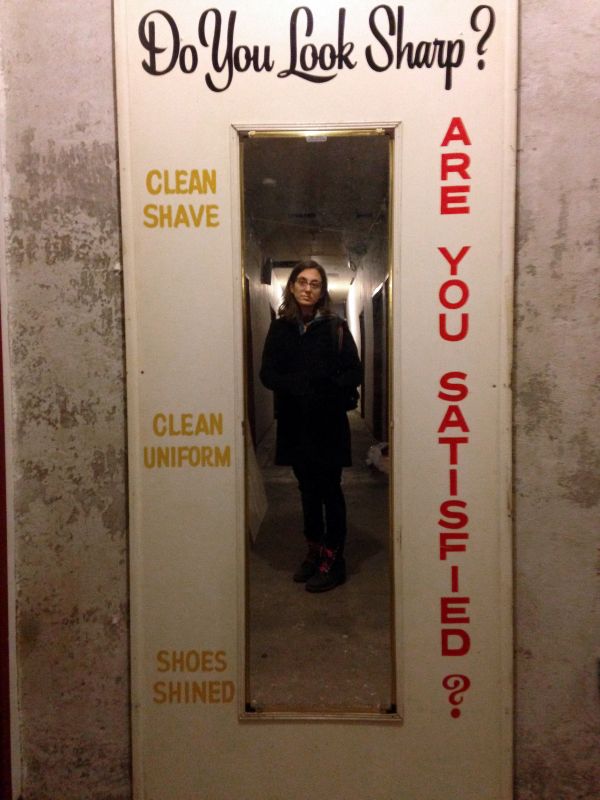 Interviewed by: Eliana Blechman
We talked to Kirsten Hassenfeld about the influence of the domestic arts in her work and the public vs private sphere. Read on for more...
Art-in-Buildings: How do the decorative arts influence your practice?
Kirsten Hassenfeld: Their influence has grown out of my preoccupation with jewelry in works I made in the previous decade. Originally, I was drawn to the precious objects made by faberge and similar makers as a way to talk about the near-universal attraction to what is rare or "valuable" Over the years, my interest in functional or decorative household wares has shifted to focus mostly on the crafts that sprung from filling a need (such as creating a seat for a wooden chair). These techniques then go far beyond their original purpose to enrich the visual environment, use scraps/remnants, and reveal a maker's vision. It is this multiplicity of purpose that delights me.
Another major draw is the decorative arts' reliance on stylized motifs from the natural world. I am fascinated by the endless ways in which nature can be seen through this lens. The variations between images of great fidelity, to patterns with just barely discernible roots in a botanical origin, form a visual vocabulary that relates to our divergent relationships with nature, both wild and domesticated.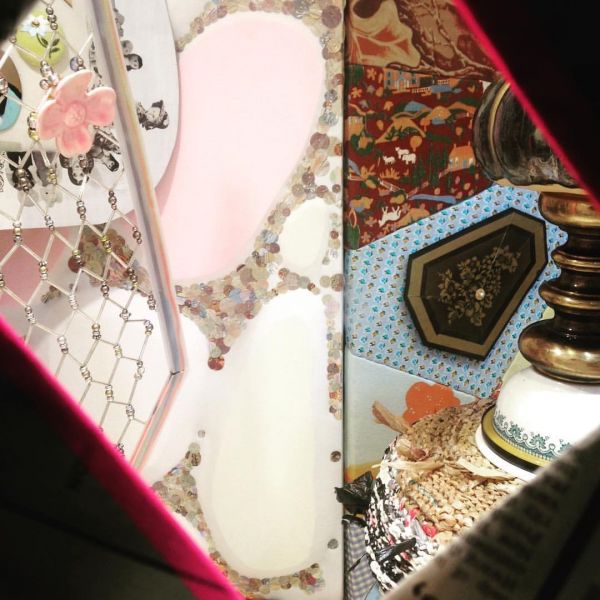 AiB: Why did you choose to pursue the domestic sphere in private collection, and is this an area you have explored in your other work?
KH: My work is firmly rooted in the domestic. Previous sculptures have been built from directly detritus from the pantry and the junk drawer, or from used and vintage gift wrap. I have always had a strong and persistent attachment and interest to the inanimate objects that surround me in my day-to-day life. This seems to be a constant thread in my studio; I think it has to do with honesty, starting from a place of familiarity and building out from there.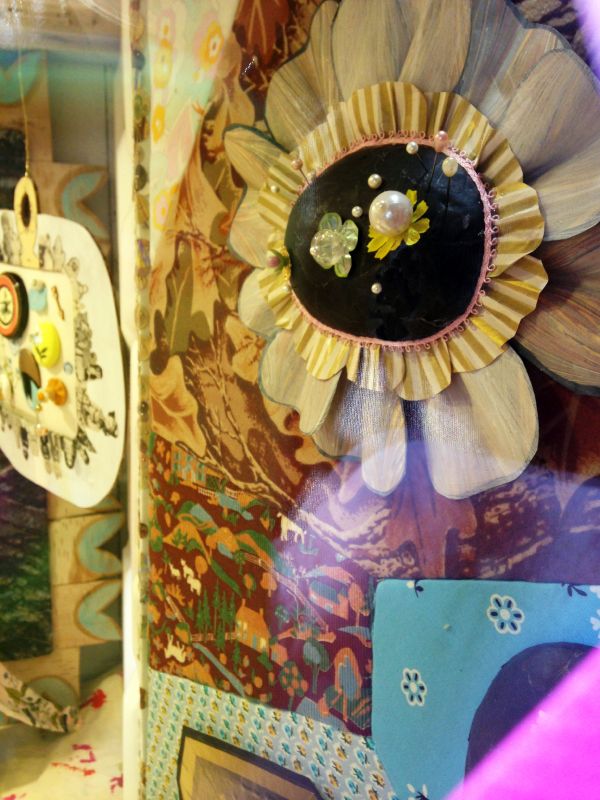 AiB: Private collection is only visible through specific peepholes in the West 10th Window. How does a partially obscured display alter the viewer's relationship to the work?
KH: The vitrine-like space of the West 10th window lent itself naturally to this peephole display. The woven newspapers covering the windows reference the manner many windows are covered over as the interior display is being prepared. Many passersby may not notice that anything unusual is happening. I understand that; I like the idea of speaking to people who still notice the world around them. I can't speak for viewers, but I imagine seeing private collection may be different from most artworks because of how low to the ground and modest it is. Inside, it is bursting with visual information that is clearly a personal vision.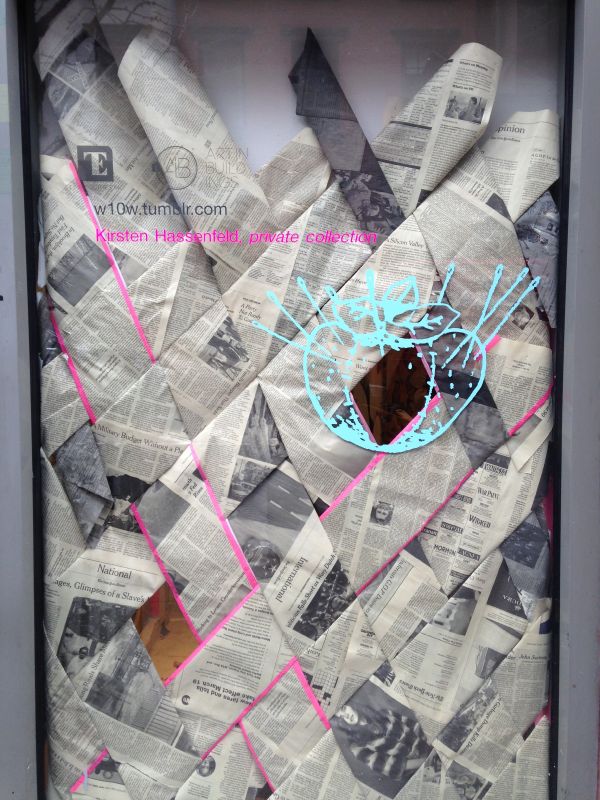 AiB: What is the relationship between the private vs the public in your work?
KH: The experience of discovering the work that is hidden, the possibility of having a private moment in a public space seems relevant and important right now. My work in general has always been resolutely personal in nature, but I feel like now is the time to somehow turn the personal inside out. Maybe this could promote empathy or making a connection that might otherwise not be made.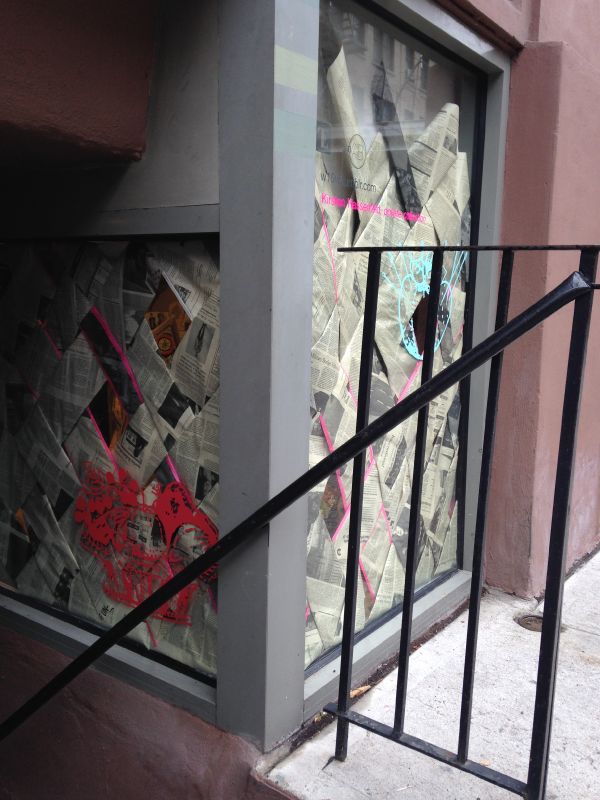 AiB: What's next for you?
KH: In the past month, I have thrown myself into a weaving project. I am excited about making shaped wall works using materials both within fiber arts traditions and from less usual sources. Stay tuned...
Learn more about Kirsten Hassenfeld on her website!
To stay up to date on Time Equities Art-in-Buildings Projects,
subscribe to the blog, visit our facebook, and connect with us on twitter and instagram!
Share