Now on View: Jessica Stoller, Unfurl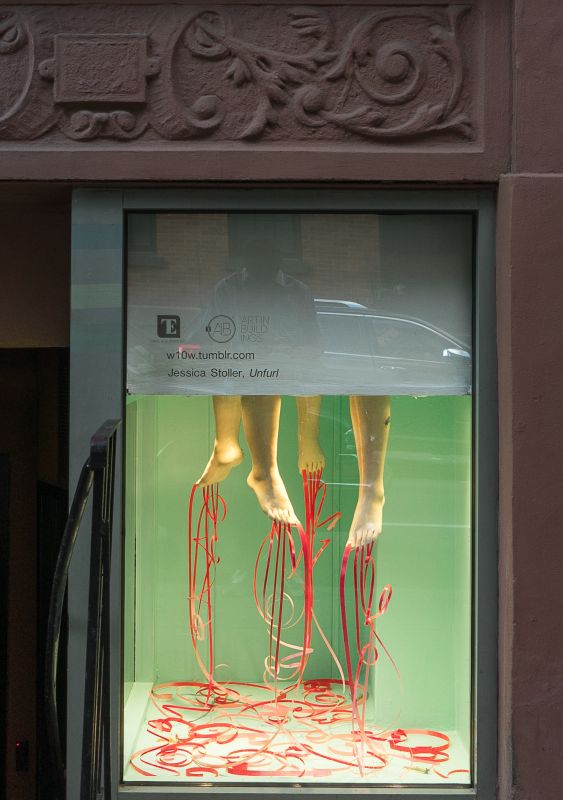 Time Equities Inc. Art-in-Buildings is pleased to announce the newest exhibition at the West 10th Window: Jessica Stoller, Unfurl.
Jessica Stoller's elaborate sculpture examines the constructed world of femininity, fusing objects together that are equal parts desire and repulsion. Stoller employs porcelain as her primary medium, a historic material inextricably tied to notions of beauty, consumption and refined taste.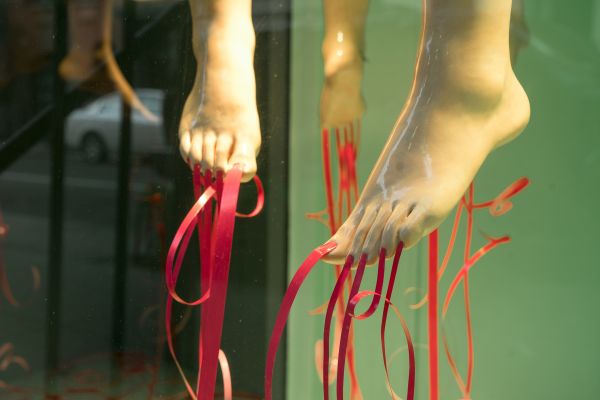 In Unfurl, commissioned for the West 10th Window, Stoller suspends disembodied ceramic feet from the ceiling, as if dangling from the residential floor above. The gentle curves of the hanging limbs, disjointed from the body, become isolated fetishized objects, calling to mind the mannequins in store displays from the surrounding neighborhood. Stoller pushes the forms further, as each foot sprouts curling, overgrown, toenails that cascade down the length of the window, echoing the decorative arabesques on the building above. The flowing, ombré pink nails collect in a heap at the bottom of the display, creating a dense ground of overgrowth and accumulation speckled with the occasional porcelain slug. Stoller's Unfurl challenges our ideas about a contained female body put on display and imagines the possibility of unlimited growth.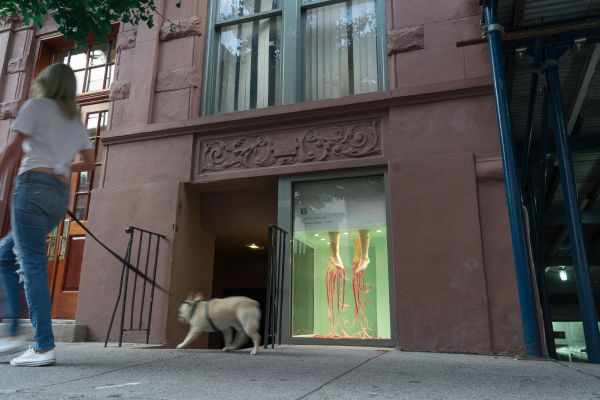 Jessica Stoller (b. 1981, Detroit, Michigan) currently lives and works in Brooklyn, NY. She received her BFA from the College for Creative Studies, and an MFA from Cranbrook Academy of Art. Stoller's work has been reviewed, in such publications as The New York Times, Ceramics: Art and Perception, and N. Pandora Feminist Journal, among others. She has been included in recent exhibitions at Zuckerman Museum of Art, GA; Greenwich House Pottery, NY; and Wave Hill, NY. Solo show venues include P.P.O.W, NY; Hionas Gallery, NY; and The Clay Studio, PA. A 2016 Pollock-Krasner grantee, Peter S. Reed grantee and Louis C. Tiffany nominee, Stoller has also participated in residencies including the Kohler Arts & Industry Program, The Museum of Arts and Design's Artist Studios Program, and most recently The Shigaraki Ceramic Culture Park, in Koka City, Japan. The artist is represented by P.P.O.W, New York.

For more information please visit: jessicamstoller.com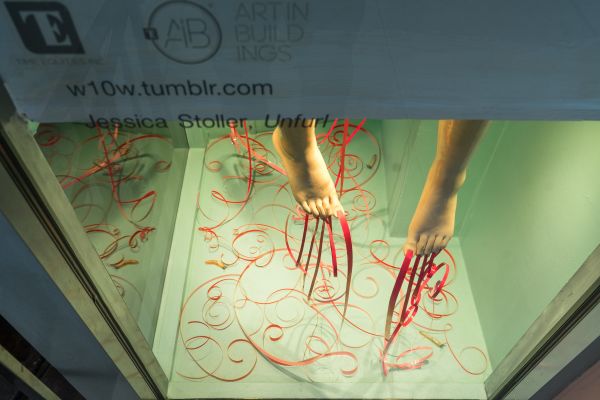 Next up at the West 10th Window: Greg Smith, Melissa Jordan, and David Stein.
Learn more about Jessica Stoller on her website!
To stay up to date on Time Equities Art-in-Buildings Projects,
subscribe to the blog, visit our facebook, and connect with us on twitter and instagram!
Share