Now On View: Sara Gassmann, DOMESTIC STARE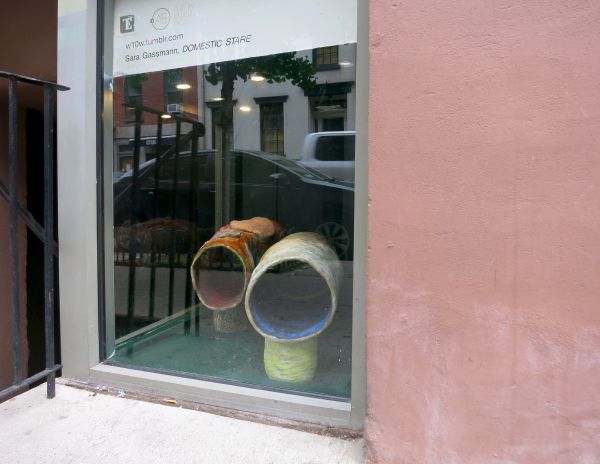 Time Equities Inc. Art-in-Buildings is pleased to announce the newest exhibition at the West 10th Window: Sara Gassmann, DOMESTIC STARE.
Sara Gassmann's installation, DOMESTIC STARE, creates a reciprocal relationship between viewer and object. While the audience is invited to stare down the circular length of the sculptures, they in turn eye the viewer, observing the observer. Gassmann's ceramic sculptures inhabit a world somewhere between inorganic object and animal. Peering out from the dark green window display, Gassmann's installation imposes a sense of surveillance on the viewer as the forms display an odd anthropomorphic quality; standing on two legs, a large eye is evoked in the negative space within the "body" of the object. The glaze of the ceramic and the glaze of the glass create a double reflection, allowing the viewer to watch themselves observe the sculpture, and inviting them to lean in closer to see evidence of the artist's hand.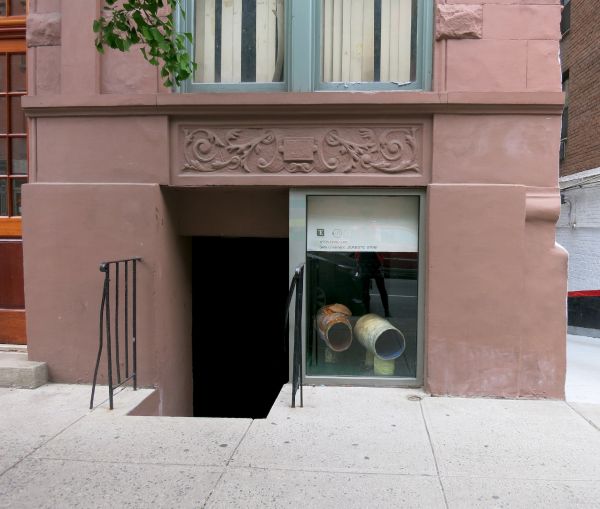 Sara Gassmann (born 1980 in Dagmersellen, CH; lives and works in Basel, Switzerland) received her BA from Geneva School of Art and Design (HEAD) and her MFA from the Bern University of the Arts. She is currently an Artist-In-Residence at Residency Unlimited New York, and has participated in different Artist-In-Residences, such as Swatch Art Peace Hotel Residency Shanghai CN (2016), Geumcheon Art Space Seoul KR (2015) and Inside-Out Art Museum Beijing CN (2013). Gassmann's work is exhibited in venues such as Vitrine Gallery Basel CH (2017), Centre d'art contemporain Yverdon-les-bains CH (2016), Kunstmuseum Thun CH (2015), Kunstmuseum Luzern CH (2014|12), Space One Seoul KR (2014), Stadtgalerie Bern CH (2014), Kunsthaus Langenthal CH (2015|14), La Placette Lausanne CH (2013), Galerie Krethlow Bern CH (2012), Kunstpavillon München D (2012).
Next up at the West 10th Window: Inna Babaeva, Jessica Stoller, and Greg Smith.
Learn more about Sara Gassmann on her website!
To stay up to date on Time Equities Art-in-Buildings Projects,
subscribe to the blog, visit our facebook, and connect with us on twitter and instagram!
Share