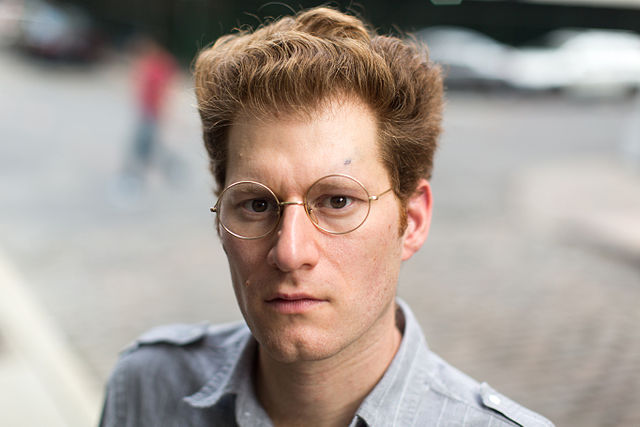 Michael Mandiberg is an interdisciplinary artist, scholar, and educator. His work traces the lines of political and symbolic power online, working on the Internet in order to comment on and or intercede in the real and poetic flows of information. He sold all of his possessions online on Shop Mandiberg, made perfect copies of copies on AfterSherrieLevine.com, created Firefox plugins that highlight the real environmental costs of a global economy on TheRealCosts.com, and transformed all of Wikipedia into books for Print Wikipedia. He is co-author of Digital Foundations and Collaborative Futures, as well as the editor of The Social Media Reader. He founded the New York Arts Practicum, and co-founded the Art+Feminism Wikipedia Editathon. A recipient of residencies and commissions from Eyebeam, Rhizome.org, The Banff Centre, and Turbulence.org, his work has been exhibited at the New Museum, Ars Electronica, ZKM, and Transmediale. His works has been written about in Artforum, ARTnews, The New York Times, The Washington Post, among others. A former Senior Fellow at Eyebeam, he is currently Associate Professor at the College of Staten Island/CUNY and a member of the Doctoral Faculty at the CUNY Graduate Center. He lives in, and rides his bicycle around, Brooklyn. His work lives at Mandiberg.com.
Share This
PRESS
New art space opens inaugural exhibit
Jul 03, 2017
Art and about: Fruit, goats, and art served together
Jul 03, 2017
Where Do Banks Go When They Die?
Sep 29, 2016
Making Art with Failed Banks
Sep 26, 2016
Go For Broke: Cataloguing failure, one bank at a time
Sep 15, 2016
ArtRx NYC
Sep 13, 2016
Market Research: An Interview with Michael Mandiberg
Aug 26, 2016
Don't bank on it: New York artist's memorial to financial failures comes to Wall Street
May 10, 2016
View All Press Related to Array.